Opel Corsa Owners Manual: Lashing eyes, Warning triangle, First aid kit, Roof rack
Lashing eyes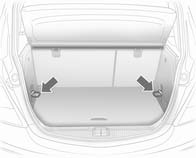 The lashing eyes are designed to secure items against slippage, e.g.
using lashing straps or luggage net.
Warning triangle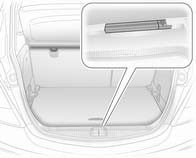 Warning triangle
Store warning triangle in rear load compartment wall: first fit warning triangle into recess on left and then insert in guide on right.
To remove the warning triangle, lift to the right and pull out to the right.
First aid kit
Stow the first-aid kit (cushion) in the compartment in the left wall of the load compartment.
To open the compartment, disengage cover and open it.
Roof rack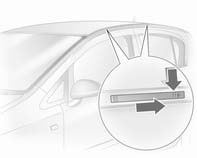 Roof rack
For safety reasons and to avoid damage to the roof, the vehicle approved roof rack system is recommended.
Follow the installation instructions and remove the roof rack when not in use.
Fitting on model without sunroof
Push covers for concealing roof rack mounts down and push backwards with a valve cap key.
Fitting on model with sunroof
Disengage covers concealing roof rack mounts by pushing sliders in direction of arrow (e.g. with a coin) and remove upwards. To close roof rack mounts, first insert covers at front and engage sliders at rear.
Attach roof rack at appropriate points, see supplied roof rack system instructions.