Opel Corsa Owners Manual: Loading information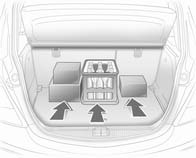 Loading information
■ Heavy objects in the load compartment should be placed against the seat backrests. Ensure the backrests are securely engaged. If objects can be stacked, the heavier objects should be placed at the bottom.
■ Secure objects with lashing straps attached to lashing eyes.
■ Secure loose objects in load compartment to prevent sliding.
■ When transporting objects in the load compartment, the backrests of the rear seats must not be folded forward.
■ Do not allow the load to protrude above the upper edge of the backrests.
■ Do not place any objects on the load compartment cover or the instrument panel, and do not cover the sensor on top of the instrument panel.
■ The load must not obstruct the operation of the pedals, parking brake and gear selector, or hinder the freedom of movement of the driver. Do not place any unsecured objects in the interior.
■ Do not drive with an open load compartment.
■ The payload is the difference between the permitted gross vehicle weight (see identification plate) and the EC kerb
weight.
To calculate the EC kerb weight, enter the data for your vehicle in the Weights table.
The EC kerb weight includes weights for the driver (68 kg), luggage (7 kg) and all fluids (tank 90 % full).
Optional equipment and
accessories increase the kerb weight.
■ Driving with a roof load increases the sensitivity of the vehicle to cross-winds and has a detrimental effect on vehicle handling due to the vehicle's higher centre of gravity. Distribute the load evenly and secure it properly with retaining straps. Adjust the tyre pressure and vehicle speed according to the load conditions. Check and retighten the straps frequently.
The permissible roof load is 75 kg.
The roof load is the combined weight of the roof rack and the load.