Opel Corsa Owners Manual: Rear window wiper/washer, Outside temperature
Rear window wiper/washer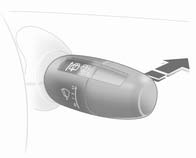 Rear window wiper/washer
Push lever forwards. The rear window wiper swipes in interval mode. Switch off by pushing lever forwards again.
If the lever is held forwards, washer fluid is sprayed onto the rear window.
The rear windscreen wiper comes on automatically when the windscreen wiper is switched on and reverse gear is engaged. Activation or deactivation of this function can be changed.
Vehicle personalisation.
Outside temperature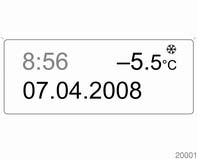 Outside temperature
A drop in temperature is indicated immediately and a rise in temperature after a time delay.
If outside temperatures drop to 3 °C, the symbol

illuminates in the
Triple-Info-Display or the Board-Info-Display as a warning for icy road conditions.

remains
illuminated until temperatures reach at least 5 °C.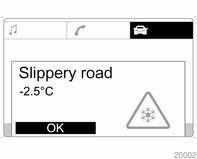 In vehicles with Graphic-Info-Display or Color-Info-Display, a warning message appears in the display as a warning for icy road conditions.
There is no message below -5 °C.
Warning:
The road surface may already be icy even though the display indicates a few degrees above 0 °C.