Opel Corsa Owners Manual: Power outlets, Cigarette lighter
Power outlets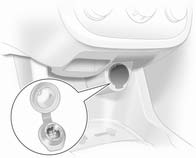 Power outlets
The power outlet is located in the centre console.
Caution:
Do not damage the outlet by using unsuitable plugs.
Connecting electrical accessories while the engine is off will discharge the battery. Do not exceed the maximum power consumption of 120 watts. Do not connect any currentdelivering accessories, e.g. electrical charging devices or batteries.
Electrical accessories that are connected must comply with the electromagnetic compatibility requirements laid down in DIN VDE 40 839.
If the tyre repair kit is in operation, no consumers may be connected to the auxiliary power outlet.
Cigarette lighter

Cigarette lighter
The cigarette lighter is located in the centre console.
Press in cigarette lighter. It switches off automatically once the element is glowing. Pull out lighter.