Opel Corsa Owners Manual: Daytime running lights, Adaptive forward lighting
Daytime running lights
With the ignition on and the light switch set to

, the side lights
are
switched on. When the engine is running, headlights illuminate.
On vehicles without automatic light control,

must be switched on
when
it gets dark for illumination of the instrument panel.
The daytime running lights switch off when the ignition is switched off.
Adaptive forward lighting
Adaptive forward lighting ensures better illumination of bends, crossings and narrow bends.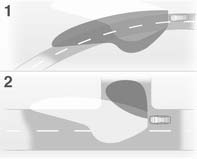 Curve lighting (1)
The light beam pivots based on steering wheel position and speed.
Corner lighting (2)
On tight bends or when turning off, depending on the steering angle or the turn signal, an additional left or right reflector is switched on which illuminates the road in the direction of travel. It is activated up to a speed of 40 km/h (25 mph).
Reversing function
If the lights are on, reverse gear is engaged, and the turn signal is activated, the cornering light on the appropriate side is switched on. The cornering light stays on for 15 seconds once the turn signal has been switched off.
Control indicator

.