Opel Corsa Owners Manual: Parking brake, Brake assist, Hill start assist
Parking brake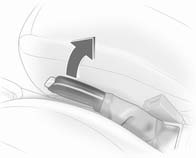 Parking brake
Always apply parking brake firmly without operating the release button, and apply as firmly as possible on a downhill or uphill slope.
To release the parking brake, pull the lever up slightly, press the release button and fully lower the lever.
To reduce the operating forces of the parking brake, depress the foot brake at the same time.
Control indicator

.
Brake assist
If the brake pedal is depressed quickly and forcefully, maximum brake force is automatically applied (full braking).
Maintain steady pressure on the brake pedal for as long as full braking is required. Maximum brake force is automatically reduced when the brake pedal is released.
Hill start assist
The system helps driving away on inclines by holding the vehicle. After the parking brake is disengaged and the foot brake pedal is released, the brakes are released after a 2 second delay.