Opel Corsa B 1993–2000 Service and Repair Manual: Maintenance - introduction
Rear underbody view of a 1.8 litre model - other models similar
Centre silencer
Handbrake adjuster
Handbrake cables
Fuel tank
Brake pipe
Brake and fuel pipes
Brake hoses
Axle beam
Axle mountings
Spring
Shock absorber mounting
Fuel filler pipe
Fuel gauge sender/fuel tank outlet
Fuel tank breather
Fuel filter*
Fuel pressure regulator*
Fuel pump*
Towing eye
Rear silencer
Rear brake pipes
*Fuel injection models only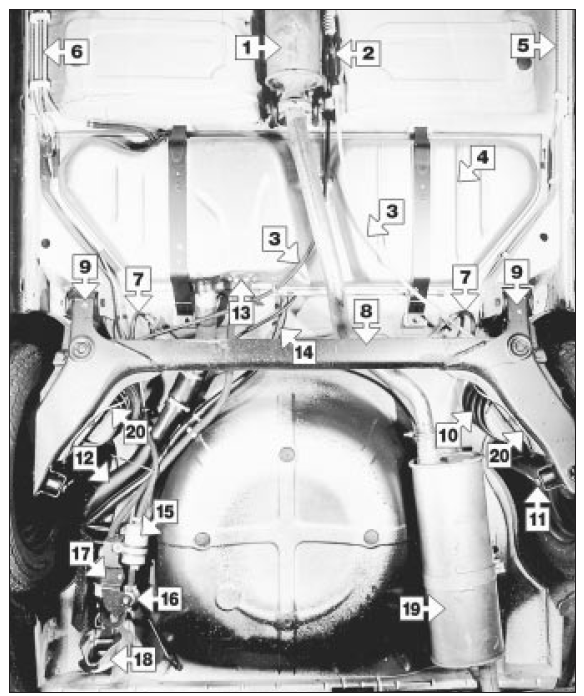 Introduction
General information
This Chapter is designed to help the home mechanic maintain his/her vehicle for safety, economy, long life and peak performance.
The Chapter contains a master maintenance schedule, followed by sections dealing specifically with each task on the schedule. Visual checks, adjustments, component renewal and other helpful items are included. Refer to the accompanying illustrations of the engine compartment and the underside of the vehicle for the locations of the various components.
Servicing of your vehicle in accordance with the mileage/time maintenance schedule and the following sections will provide a planned maintenance programme, which should result in a long and reliable service life. This is a comprehensive plan, so maintaining some items but not others at the specified service intervals, will not produce the same results.
As you service your vehicle, you will discover that many of the procedures can - and should - be grouped together, because of the particular procedure being performed, or because of the close proximity of two otherwise-unrelated components to one another. For example, if the vehicle is raised for any reason, the exhaust can be inspected at the same time as the suspension and steering components.
The first step in this maintenance programme is to prepare yourself before the actual work begins. Read through all the sections relevant to the work to be carried out, then make a list and gather together all the parts and tools required. If a problem is encountered, seek advice from a parts specialist, or a dealer service department.
Intensive maintenance
If, from the time the vehicle is new, the routine maintenance schedule is followed closely, and frequent checks are made of fluid levels and high-wear items, as suggested throughout this manual, the engine will be kept in relatively good running condition, and the need for additional work will be minimised.
It is possible that there will be times when the engine is running poorly due to the lack of regular maintenance. This is even more likely if a used vehicle, which has not received regular and frequent maintenance checks, is purchased. In such cases, additional work may need to be carried out, outside of the regular maintenance intervals.
If engine wear is suspected, a compression test will provide valuable information regarding the overall performance of the main internal components. Such a test can be used as a basis to decide on the extent of the work to be carried out. If for example a compression test indicates serious internal engine wear, conventional maintenance as described in this Chapter will not greatly improve the performance of the engine, and may prove a waste of time and money, unless extensive overhaul work is carried out first.