Opel Corsa B 1993–2000 Service and Repair Manual: Every 36 000 miles
Automatic transmission fluid renewal
1. Allow the transmission to cool down before draining, as the fluid: can be very hot indeed.
2. Remove all the fluid pan screws except one which should be unscrewed through several turns.
3. Release the fluid pan from its gasket and as the end of the pan tilts downwards, catch the fluid in a suitable container.
4. Remove the remaining screw and the pan.
Peel off the gasket (where fitted) or remove all traces of sealant (as applicable).
5. Pull the filter mesh from its securing clips and recover its sealing ring. Clean the filter in a high flash-point solvent and allow it to dry. If the filter is clogged or split it must be renewed.
6. Fit a new O-ring and refit the filter securely.
7. Ensure that the fluid pan and transmission mating surfaces are clean and dry and bolt on the fluid pan using a new gasket. Where no gasket is fitted, apply a bead of sealant about 5.0 mm thick to clean surfaces. The fluid pan which is fitted with a gasket can be identified by the strengthening ribs on the pan flanges.
The pan for use with silicone sealant has plain flanges.
8. Fill the transmission with the specified quantity of fluid and then check the level.
Specifications
Cooling system

Note: Refer to antifreeze manufacturer for latest recommendation
Fuel system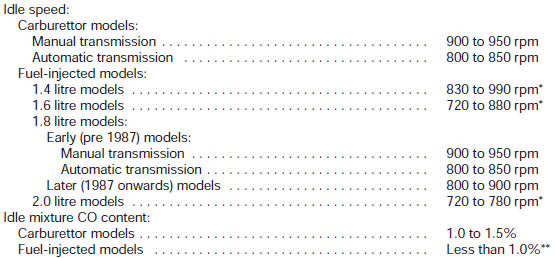 *Not adjustable - controlled by ECU
**On all 1.4 and 1.6 litre fuel injection models, and 2.0 litre models with a catalytic converter the exhaust gas CO content is regulated by the control unit and is not adjustable
Ignition system

*The spark plug gap quoted is that recommended by Champion for their specified plugs listed above. If spark plugs of any other type are to be fitted, refer to their manufacturer's spark plug gap recommendations.

Braking system

Torque wrench settings