Opel Corsa B 1993–2000 Service and Repair Manual: Rear brake disc - removal and refitting
Note: Before starting work, refer to the note at the beginning of Section 5 concerning the dangers of asbestos dust.
Removal
1. Slacken and remove the two bolts securing the brake caliper in position. Slide off the caliper and position it clear of the brake disc, taking care not to strain the brake pipe.
2. Release the handbrake then remove the hub grease cap by levering or tapping it off (see illustration).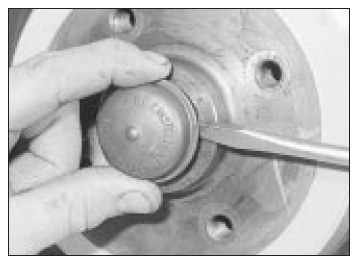 Levering off the grease cap
3. Remove the split pin from the hub nut.
Remove the nut.
4. Pull the disc/hub unit off the stub axle, catching the washer and the bearing outer race (see illustration). If the handbrake shoes seem to be preventing removal, disconnect the handbrake cable from the lever on the brake backplate.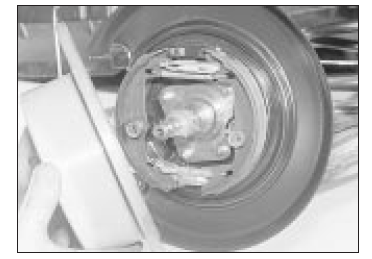 Removing the rear disc
Refitting
5. Refitting is the reverse of the removal procedure, noting the following points:
If a new disc has been fitted, use a suitable solvent to wipe any preservative coating from the disc before refitting the caliper.
On refitting, adjust the hub bearings.
Use a new split pin, and if necessary a new grease cap.
Adjust the handbrake.