Opel Corsa B 1993–2000 Service and Repair Manual: Rear brake caliper - removal, overhaul and refitting
Removal
1. Apply the handbrake, then jack up the rear of the vehicle and support it on axle stands. Remove the appropriate roadwheel, marking its correct fitted position on the wheel hub.
2. Minimise fluid loss either by removing the master cylinder reservoir cap and then tightening it down onto a piece of polythene to obtain an airtight seal, or by using a brake hose clamp, a G-clamp or a similar tool to clamp the flexible hose at the nearest convenient point to the rear brake.
3. Clean the area around the caliper brake pipe union. Unscrew the union nut and disconnect the pipe from the caliper. Plug the pipe end and caliper hole to minimise fluid loss and prevent the ingress of dirt into the hydraulic system.
4. Remove the brake pads.
5. Slacken and remove the two caliper mounting bolts and remove the caliper assembly from the vehicle (see illustration).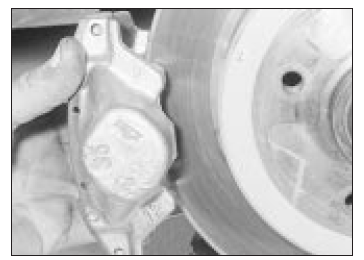 Removing the rear caliper
Overhaul
Note: No attempt must be made to separate the caliper halves. If overhaul cannot be accomplished with the caliper assembled, it must be renewed.
6. With the caliper on the bench, wipe away all traces of dust and dirt, but avoid inhaling the dust as it is injurious to health.
7. Prise off the piston dust excluders.
8. Clamp one of the pistons in its bore using a G-clamp and a thin piece of wood then extract the opposite piston and associated components, position the piston step as shown (see illustration).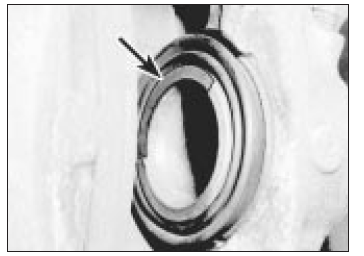 Correct position of rear caliper piston step, showing the inboard piston on the right-hand caliper. Opposite piston is the mirror image
9. Push the piston into its bore and repeat the operation on the opposite piston.
Refitting
10. Prior to refitting, remove all traces of locking compound from the caliper mounting bolt threads and the hub carrier holes. Apply a drop of fresh locking compound to the bolt threads. Refit the caliper and insert the mounting bolts, tightening them to the specified torque setting (see illustration).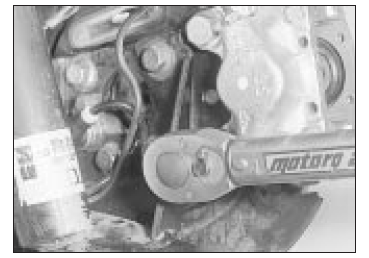 Tighten the rear caliper mounting bolts to the specified torque setting
11. Reconnect the brake pipe to the caliper and tighten its union nut to the specified torque setting.
12. Refit the brake pads.
13. Remove the brake hose clamp or polythene, where fitted, and bleed the hydraulic system.
Note that providing the precautions described were taken to minimise brake fluid loss, it should only be necessary to bleed the relevant rear brake.
14. Refit the roadwheel, aligning the marks made on removal, then lower the vehicle to the ground and tighten the roadwheel bolts to the specified torque.