Opel Corsa B 1993–2000 Service and Repair Manual: Handbrake lever - removal and refitting
Removal
1. Unscrew the yoke adjustment nut completely and remove the yoke. Also remove the rubber boot from the pull-rod.
2. Remove the driver's seat by unbolting its rails from the floor.
3. Free the centre console by removing its single securing screw, which is concealed by a plastic plug. Remove the electric window and/or electric mirror switches, when fitted, then slide the console rearwards to free it and lift it off the handbrake lever.
4. Cut the carpet, as shown (see illustration).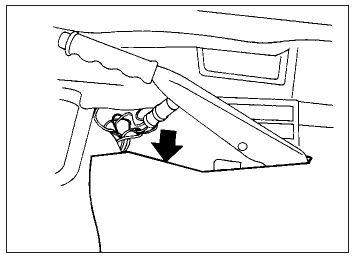 Cut the carpet along the line shown (arrowed)
5. Remove the two securing bolts and withdraw the handbrake lever (see illustration).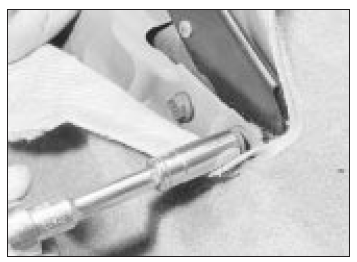 Unbolting the handbrake lever
6. The handbrake warning switch can be unbolted from the lever. The ratchet pawl and segment can be renewed if facilities exist for removing and refitting their fastening bushes and rivets.
Refitting
7. Commence refitting by bolting the handbrake lever in place. Tighten the bolts to the specified torque.
8. Secure the carpet with glue and/or sticky tape. (The cut area will be covered by the console.)
9. Refit and secure the console, and its switches when applicable.
10. Refit and secure the front seat.
11. Refit the rubber boot and yoke. Adjust the handbrake.