Opel Corsa B 1993–2000 Service and Repair Manual: General information
The front suspension is fully independent. It consists of MacPherson struts; the coil springs surrounding the shock absorbers. An anti-roll bar is fitted to most models (see illustration).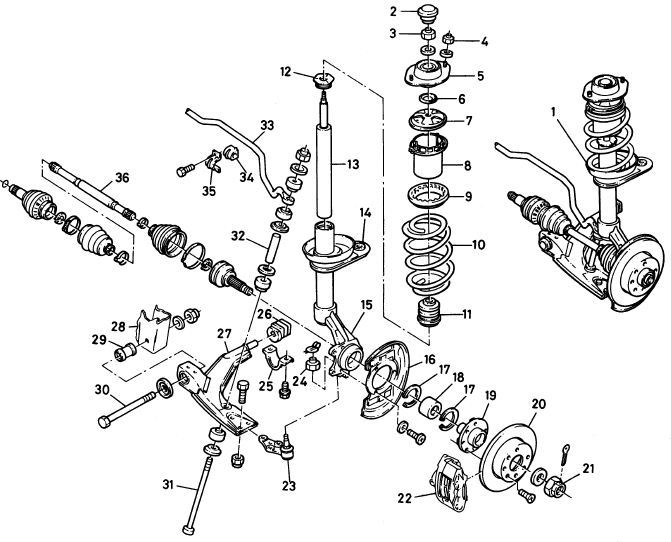 Exploded view of the front suspension components
Suspension assembly (LH)
Cap
Piston rod nut
Strut mounting nut
Strut top mounting
Thrustwasher
Spring seat
Guide ring
Damper ring
Spring
Bellows
Ring nut
Shock absorber cartridge
Steering eye
Steering knuckle
Brake disc shield
Circlips
Hub bearing
Hub
Brake disc
Driveshaft nut
Brake caliper
Control arm balljoint
Balljoint nut
Control arm clamp
Control arm rear bush
Control arm
Mounting point
Control arm pivot bush
Control arm pivot bolt
Anti-roll bar link bolt
Anti-roll bar link
Anti-roll bar
Anti-roll bar mounting
Anti-roll bar clamp
Driveshaft
Rear suspension is by axle tube and twin trailing arms. Coil springs and telescopic shock absorbers are used, mounted independently of each other. Again, an anti-roll bar is fitted to most models (see illustration). On 2.0 litre 16-valve models and auxiliary anti-roll bar is also fitted.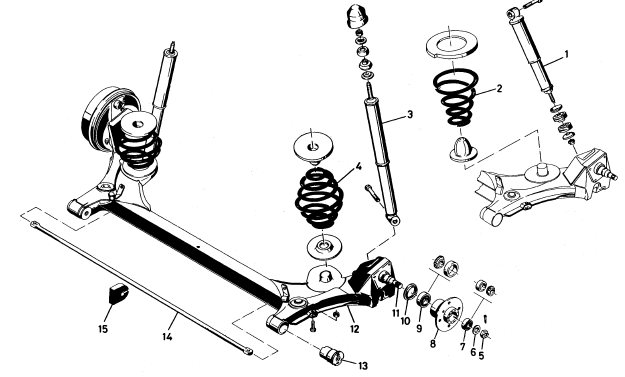 Exploded view of rear suspension components
Shock absorber (Estate)
Spring*
Shock absorber (Hatchback)
Spring*
Hub nut
Thrustwasher
Outer bearing
Hub
Inner bearing
Oil seal
Stub axle
Axle arm
Axle arm bush
Anti-roll bar
Rubber damper
*Typical - alternative type may be fitted
A driver-operated level control system is available as an option on some models. The system enables the vehicle ride height and attitude to be maintained regardless of loading.
The steering gear is of rack and pinion type.
A collapsible steering column is fitted; on some models the top part of the column is adjustable to provide different steering wheel positions.
A steering damper is fitted to certain models without power assistance to reduce the feedback of shocks to the steering wheel.
Power assistance is available as an option on the larger-engined models. Assistance is by hydraulic pressure, generated in a pump driven from the crankshaft pulley.