Opel Corsa B 1993–2000 Service and Repair Manual: Steering wheel - removal and refitting
Removal
1. Disconnect the battery earth lead.
2. Prise off the central cap from the steering wheel. Disconnect the horn contact wires and remove the cap (see illustration).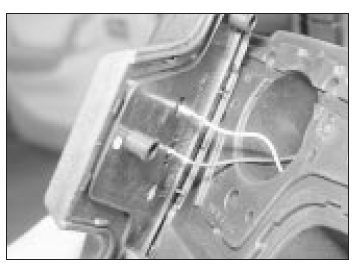 Removing the steering wheel central cap
3. Set the steering in the straight-ahead position.
4. Relieve the locktabs and undo the central retaining nut (see illustration).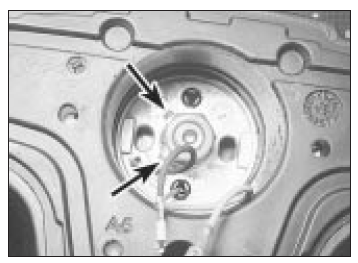 Steering wheel retaining nut and locktabs (arrowed)
5. Depending on the work to be done, it may ease refitting to mark the relationship of the wheel centre to the shaft splines.
6. Pull the wheel off the shaft splines. If pulling by hand, be careful not to injure yourself if the wheel suddenly comes free. Use a puller if it is tight. Do not use a hammer: damage to the column may result.
7. If wished, the horn contact ring can now be unclipped. Note that the direction indicator return segment on the ring points to the left.
Refitting
8. Before refitting, make sure that the washer and spring are in place on the shaft. Fit the steering wheel onto the splines, making sure it is correctly aligned.
9. Fit a new lockwasher and refit the nut.
Tighten the nut to the specified torque and bend up the lockwasher tabs.
10. Reconnect the horn contact wires and press the central cap into place.
11. Reconnect the battery earth lead.