Opel Corsa B 1993–2000 Service and Repair Manual: Headlamp beam adjustment - general information
1. Accurate adjustment of the headlight beam is only possible using optical beam setting equipment and this work should therefore be carried out by a Vauxhall/Opel dealer or suitably equipped workshop.
2. For reference the headlights can be adjusted using the adjuster assemblies fitted to the top and bottom of each light unit. In an emergency, adjustments can be made on a 'trial and error' basis. The vertical adjustment screws are accessible from under the bonnet (see illustration). The lateral adjustment screws are positioned as shown in illustration.
Note: Adjustment of the front foglights is correct when the inclination of the beam is 20 cm over a distance of 10 m. Adjustment is made by turning the adjuster screw, on the rear of each lamp as required.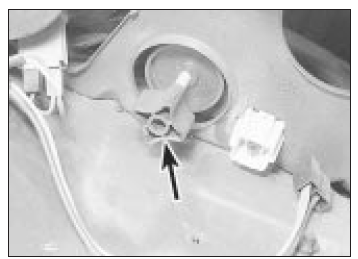 Headlamp beam vertical adjustment screw (arrowed)
Headlamp dim-dip system (UK models only) - general information
Fitted to UK models produced after October 1986, to prevent the possibility of vehicles being driven on parking lights only and to comply with new lighting legislation, all UK models produced from the above date are fitted with a dim-dip system in the headlamp circuit. The function of the system is to ensure that the car cannot be driven on parking lights only.
The system is activated by a dim-dip control unit which, when activated, reduces the voltage supply to the headlamps. This system is designed as a safeguard only and normal lighting legislation requirements still apply and must be observed.