Opel Corsa B 1993–2000 Service and Repair Manual: Loudspeakers - removal and refitting
Removal
1. Loudspeakers are positioned one at each end of the facia panel, and (on some models) one at each end of the parcel shelf or in the tailgate. Removal and refitting are self-explanatory once the appropriate trim has been removed.
2. On Saloon models the rear loudspeakers are mounted in the rear parcel shelf. Access to them is gained from the boot area. Unclip the plastic cover from the base of the speaker and disconnect the electrical leads then return to the inside of the car, undo the retaining screws and lift out the speaker (see illustrations).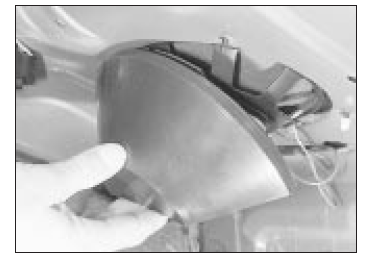 On Saloon models, unclip the plastic covers to gain access to the underside of the rear speakers . . .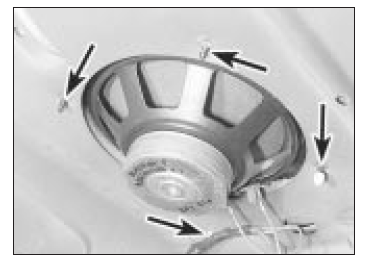 . . . the speakers are retained by four screws
Refitting
3. Refitting is the reverse of removal.
Radio aerial - removal and refitting
Removal
1. The radio aerial is mounted on the right-hand front wing. To remove it, first remove the wheel arch protective panelling by pressing out the centres of the plastic rivets.
The aerial can then be released from its bracket and the top mounting nut be undone.
2. If the aerial cable (and motor cables, when applicable) cannot be disconnected at the aerial end, they will have to be disconnected at the radio and fed back through the inner wing. Removal of some facia trim may be necessary to gain adequate access.
Refitting
3. When refitting the aerial, make sure that a good earth connection is made at the mounting bracket.