Opel Corsa Owners Manual: Rear floor storage cover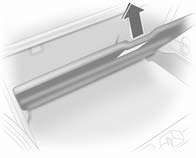 Rear floor storage cover
The double load-bay floor can be inserted in the load compartment in two positions:
■ directly beneath the cover for the spare wheel recess or the floor cover,
■ or in the upper openings in the load compartment.
To remove, lift the load-bay floor using the lever and pull backwards.
To insert, push the load-bay floor forwards in the corresponding guide, then lower.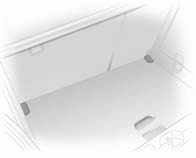 If mounted in the upper position, the space between the load-bay floor and the spare wheel well cover can be used as a stowage compartment.
In this position, if the rear seat backrests are folded forwards, an almost completely flat load bay is created.
The double load-bay floor is able to withstand a load of no more than 100 kg.
In models with a tyre repair kit, the spare wheel recess may be used as an additional stowage compartment.