Opel Corsa Owners Manual: Introduction. Operation, Radio reception, Auxiliary devices, Mobile phones and CB radio equipment
Introduction. Operation
The Infotainment system is operated as described in the Infotainment system manual.
Radio reception
Radio reception may be disrupted by static, noise, distortion or loss of reception due to
■ changes in distance from the transmitter,
■ multi-path reception due to reflection,
■ shadowing.
Auxiliary devices
The AUX input is located in the centre console in front of the gearshift lever.
Always keep the AUX input clean and dry.
Further information is available in the Infotainment system manual.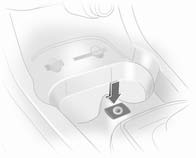 AUX input
An external audio source such as a portable CD player can be connected using a 3.5 mm jack plug via the AUX input.
Mobile phones and CB radio equipment
Installation instructions and operating guidelines
The vehicle specific installation instructions and the operating guidelines of the mobile phone and handsfree manufacturer must be observed when installing and operating a mobile telephone. Failure to do so could invalidate the vehicle type approval (EU directive 95/54/EC).
Recommendations for fault-free operation:
■ Professionally installed exterior antenna to obtain the maximum range possible,
■ Maximum transmission power 10 watts,
■ Installation of the phone in a suitable spot, consider relevant Notice.
Seek advice on predetermined installation points for the external antenna or equipment holder and ways of using devices with a transmission power exceeding 10 watts.
Use of a handsfree attachment without external antenna with mobile telephone standards GSM
900/1800/1900 and UMTS is only permitted if the maximum transmission power of the mobile telephone is 2 watts for GSM 900 or 1 watt for the other types.
For reasons of safety, do not use the phone while driving. Even use of a handsfree set can be a distraction while driving.
Warning:
Operation of radio equipment and mobile telephones which fail to meet above mentioned mobile telephone standards is only permitted using an antenna located outside of the vehicle.
Caution:
Mobile telephones and radio equipment may lead to
malfunctions in the vehicle electronics when operated inside the vehicle with no exterior antenna, unless the above mentioned regulations are observed.