Opel Corsa Owners Manual: Wheel changing
Some vehicles are equipped with a tyre repair kit instead of a spare wheel.
Make the following preparations and observe the following information: ■ Park the vehicle on a level, firm and non-skid surface. The front wheels must be in the straight-ahead position.
■ Apply the parking brake and engage first gear, reverse gear or P.
■ Remove the spare wheel.
■ Never change more than one wheel at once.
■ Use the jack only to change wheels in case of puncture, not for seasonal winter or summer tyre change.
■ If the ground on which the vehicle is standing is soft, a solid board (max. 1 cm/0.4 inches thick) should be placed under the jack.
■ No people or animals may be in the vehicle when it is jacked-up.
■ Never crawl under a jacked-up vehicle.
■ Do not start the vehicle when it is raised on the jack.
■ Before screwing in the wheel bolts, clean them and lightly coat the taper of each wheel bolt with commercially available grease.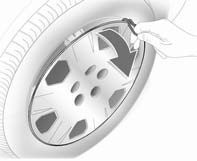 1. Pull off the wheel cover with the hook. Vehicle tools.
For wheel covers with visible wheel bolts: The cover can remain on the wheel. Do not remove the retaining rings on the wheel bolts.
Alloy wheels: Disengage wheel bolt caps with a screwdriver and remove. To protect the wheel, place a soft cloth between the screwdriver and the alloy wheel.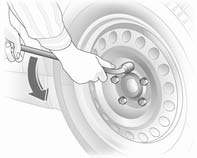 2. Install the wheel wrench ensuring that it locates securely and slacken each bolt by half a turn.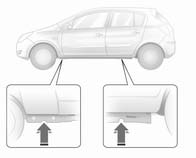 3. Ensure the jack is positioned correctly with the vehicle jacking points.
With versions of the Corsa VXR with sill panelling or retrofitted sill panelling no jack must be used.
The vehicle may be damaged.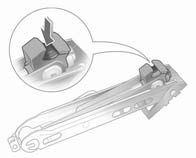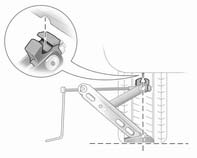 4. Set the jack to the necessary height before positioning it directly below the jacking point in a manner that prevents it from slipping.
Attach jack handle and with the jack correctly aligned rotate handle until wheel is clear of the ground.
5. Unscrew the wheel bolts.
6. Change the wheel.
7. Screw in the wheel bolts.
8. Lower vehicle.
9. Install the wheel wrench ensuring that it locates securely and tighten each bolt in a crosswise sequence. Tightening torque is 110 Nm.
10. Align the valve hole in the wheel cover with the tyre valve before installing.
Install wheel bolt caps.
11. Stow the replaced wheel and the vehicle tools.
12. Check the tyre pressure of the installed tyre and also the wheel bolt torque as soon as possible.
Have the defective tyre renewed or repaired.