Opel Corsa B 1993–2000 Service and Repair Manual: Sump - removal and refitting
Removal
1. Jack up the front of the car and securely support it on axle stands.
2. Drain the engine oil into a suitable container and refit the plug after draining.
3. Undo the bolts securing the flywheel cover plate and side support braces and remove the cover.
4. Undo the retaining bolts and lift away the sump. It will probably be necessary to tap the sump from side to side with a hide or plastic mallet to release the joint face.
Refitting
5. Thoroughly clean the sump in paraffin or a suitable solvent and remove all traces of external dirt and internal sludge. Scrape away all traces of old gasket from the sump and crankcase faces and ensure that they are clean and dry. Also clean the bearing cap grooves.
6. Apply a thick bead of jointing compound to the crankcase flange and at the joints of the front and rear main bearing caps 7 Position the cork side gaskets on the crankcase flanges and then insert the cork and sealing strips to the main bearing cap grooves (see illustration).

Insert the cork strips in the main bearing cap grooves
8. Apply a further bead of jointing compound to the gasket faces and to the gasket joints at the bearing caps.
9. Refit the sump (see illustration) and secure it in place with the retaining bolts which should be progressively tightened in a diagonal sequence.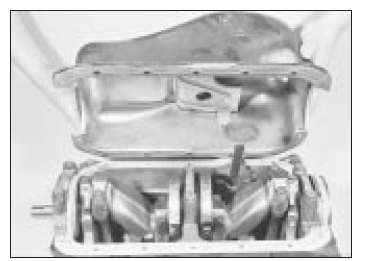 Refitting the sump
10. Refit the flywheel cover plate, lower the car and fill the engine with oil.