Opel Corsa Owners Manual: Three-point seat belt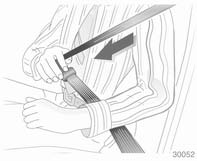 Fitting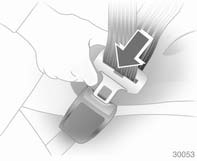 Withdraw belt from retractor, guide it untwisted across the body and insert the latch plate in the buckle. Tension the lap belt regularly whilst driving by tugging the shoulder belt.
With the Corsa VXR: Feed seat belt through belt mount on backrest when fastening seat belt.
Loose or bulky clothing prevents the belt from fitting snugly. Do not place objects such as handbags or mobile phones between the belt and your body.
Warning:
The belt must not rest against hard or fragile objects in the pockets of your clothing.

Height adjustment
1. Pull belt out slightly.
2. Press button.
3. Adjust height and engage audibly.
Adjust the height so that the belt lies across the shoulder. It must not lie across the throat or upper arm.
Do not adjust while driving.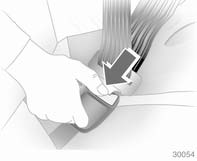 Removing
To release belt, press red button on belt buckle.
Seat belts on the rear outer seats
When not in use or to fold forward the rear backrests, feed seat belts through belt mount.
Using the seat belt while pregnant
Warning:
The lap belt must be positioned as low as possible across the pelvis to prevent pressure on the abdomen.