Opel Corsa Owners Manual: Heating, Seat belts
Heating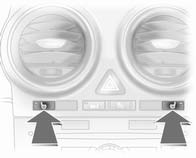 Heating
Activate heating by pressing

button
for the appropriate seat with the ignition on.
LED in button

on: relevant
front
seat heating on.
Seat heating is operational when the engine is running.
Seat belts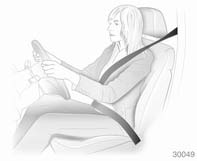 Seat belts
The belts are locked during heavy acceleration or deceleration of the vehicle for the safety of the occupants.
Warning:
Fasten seat belt before each trip.
In the event of an accident, people not wearing seat belts endanger their fellow occupants and themselves.
Seat belt reminder

.

Seat belts are only designed for use by one person at a time. They are not suitable for people younger than 12 years of age or smaller than 150 cm (5 ft).
Periodically check all parts of the belt system for damage and proper functionality.
Have damaged components
replaced. After an accident, have the belts and triggered belt tensioners replaced by a workshop.
Notice:
Make sure that the belts are not damaged by shoes or sharp-edged objects or are trapped. Prevent dirt from getting into the belt retractors.
Belt force limiters
Located in the front seats. Stress on the body is reduced by the gradual release of the belt during a collision.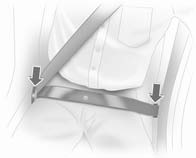 Belt tensioners
In the event of a head-on or rear-end collision of a certain severity, the front seat belts are tightened.
Warning:
Incorrect handling (e.g. removal or fitting of belts) can trigger the belt tensioners with risk of injury.
Deployment of the belt tensioners is indicated by continuous illumination of control indicator

.

Triggered belt tensioners must be replaced by a workshop. Belt tensioners can only be triggered once.
Notice:
Do not affix or install accessories or other objects that may interfere with the operation of the belt tensioners.
Do not make any modifications to belt tensioner components as this will invalidate the vehicle type approval.