Opel Corsa Owners Manual: Horn, Windscreen wiper/washer
Horn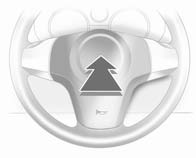 Horn
Press

.
Windscreen wiper/washer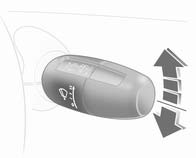 Windscreen wiper
The lever always springs back to its original position.
= fast.
= slow.

= adjustable timed interval
wipe.

= off.

For a single swipe when the windscreen wiper is off, press the lever down.
Run through the windscreen wiper stages by pushing the lever past the resistance point and holding. An acoustic signal sounds at

.

Do not use if the windscreen is frozen.
Switch off in car washes.
Adjustable wiper interval
To set the wiper interval to a value between 2 and 15 seconds: Switch on ignition, move lever down from position

, wait until wiping
frequency
reaches the desired interval time and raise lever to

.

After turning on the ignition and setting the lever to

, the
interval is
set to 6 seconds.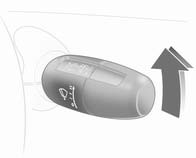 Automatic wiping with rain sensor

= Automatic wiping with
rain
sensor.
The rain sensor detects the amount of water on the windscreen and automatically regulates the frequency of the windscreen wiper.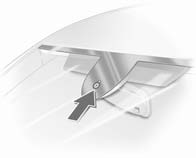 Keep the sensor free from dust, dirt and ice.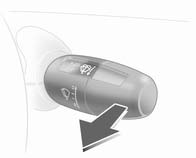 Windscreen washer
Pull lever. Washer fluid is sprayed onto the windscreen and the wiper swipes for a few strokes.