Opel Corsa Owners Manual: Reversing lights, Misted light covers, Interior lighting, Interior lights
Reversing lights
The reversing lights come on when the ignition is on and reverse gear is selected.
Misted light covers
The inside of the light covers may mist up briefly in poor, wet and cold weather conditions, in heavy rain or after washing. The mist disappears quickly by itself; to help, switch on the headlights.
Interior lighting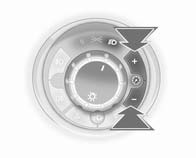 Instrument panel illumination control
Brightness can be adjusted when the exterior lights are on:
Brighter = Push button

.

Darker = Push button

.

Hold down the button until the required brightness is achieved.
Interior lights
During entry and exit of the vehicle, the front and centre courtesy lights automatically come on and then switch off after a delay.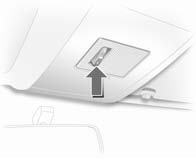 Front courtesy light
Centre switch position: automatic interior light.
To operate manually when the doors are closed:
On = Switch position I.
Off = Switch position 0.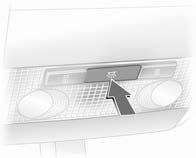 Front courtesy light with reading lights
Operated with the

button
when the
doors are closed.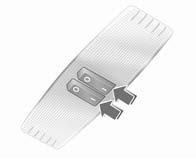 Rear courtesy lights
Operated with switch (I = on, 0 = off, centre = automatic).