Opel Corsa B 1993–2000 Service and Repair Manual: Repair and overhaul tool kit
These tools are virtually essential for anyone undertaking any major repairs to a motor vehicle, and are additional to those given in the Maintenance and minor repair list.
Included in this list is a comprehensive set of sockets. Although these are expensive, they will be found invaluable as they are so versatile - particularly if various drives are included in the set. We recommend the halfinch square-drive type, as this can be used with most proprietary torque wrenches. If you cannot afford a socket set, even bought piecemeal, then inexpensive tubular box spanners are a useful alternative.
The tools in this list will occasionally need to be supplemented by tools from the Special list.
Sockets (or box spanners) to cover range in previous list (including Torx sockets)
Reversible ratchet drive (for use with sockets)
Extension piece, 250 mm (for use with sockets)
Universal joint (for use with sockets)
Torque wrench (for use with sockets)
Self-locking grips
Ball pein hammer
Soft-faced mallet (plastic/aluminium or rubber)
Screwdrivers:
Flat blade - long & sturdy, short (chubby), and narrow (electricians) types
Cross blade - Long & sturdy, and short (chubby) types
Pliers:
Long-nosed
Side cutters (electricians)
Circlip (internal and external)
Cold chisel - 25 mm
Scriber
Scraper
Centre punch
Pin punch
Hacksaw
Brake hose clamp
Brake/clutch bleeding kit
Selection of twist drills
Steel rule/straight-edge
Allen keys (inc. splined/Torx type)
Selection of files
Wire brush
Axle-stands
Jack (strong trolley or hydraulic type)
Light with extension lead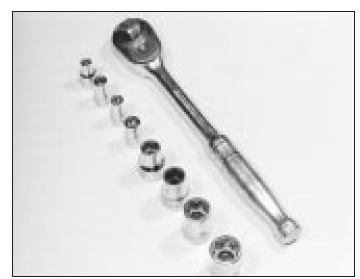 Sockets and reversible ratchet drive

Spline key set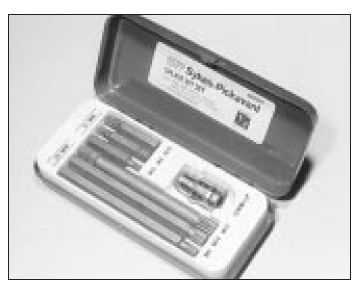 Spline bit set

Valve spring compressor

Two- and three legged bearing puller