Opel Corsa Owners Manual: Control indicators in the instrument cluster, Turn signal, Seat belt reminder
Control indicators in the instrument cluster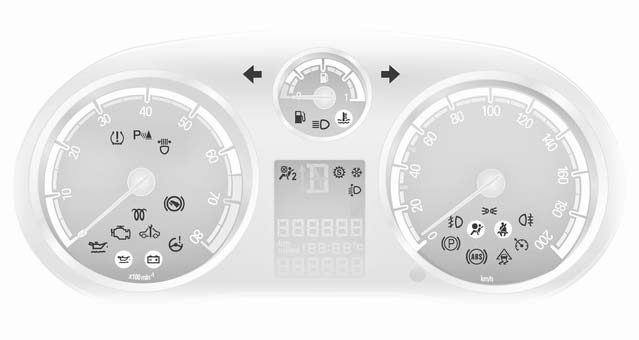 Control indicators in the instrument cluster
Turn signal

illuminates or flashes
green.
Illuminates
The control indicator illuminates briefly when the parking lights are switched.
Flashes
The control indicator flashes if a turn signal or the hazard warning flashers are activated.
Rapid flashing: failure of a turn signal light or associated fuse, failure of turn signal light on trailer.
Bulb replacement, Fuses, Turn signals.
Seat belt reminder

illuminates or flashes
red.
Illuminates
After the ignition is switched on until the seat belt is fastened.
Flashes
After starting off until the seat belt is fastened.
Fastening the seat belt.