Opel Corsa B 1993–2000 Service and Repair Manual: 35 PDSI carburettor - overhaul
Note: In the rare event of a complete carburettor overhaul being necessary, it may prove more economical to renew the carburettor as a complete unit. Check the price and availability of a replacement carburettor and of its component parts before starting work; note that most sealing washers, screws and gaskets are available in kits, as are some of the major sub-assemblies.
1. Major carburettor overhaul is not a routine operation and should only be carried out when components are obviously worn.
Removing of the cover and mopping out the fuel and any sediment from the fuel bowl, and clearing the jets with compressed air is usually sufficient to keep a carburettor in good working order.
2. With the carburettor removed from the engine and cleaned externally, remove the clip which retains the fast idle rod to the lever on the choke valve plate spindle (see illustration).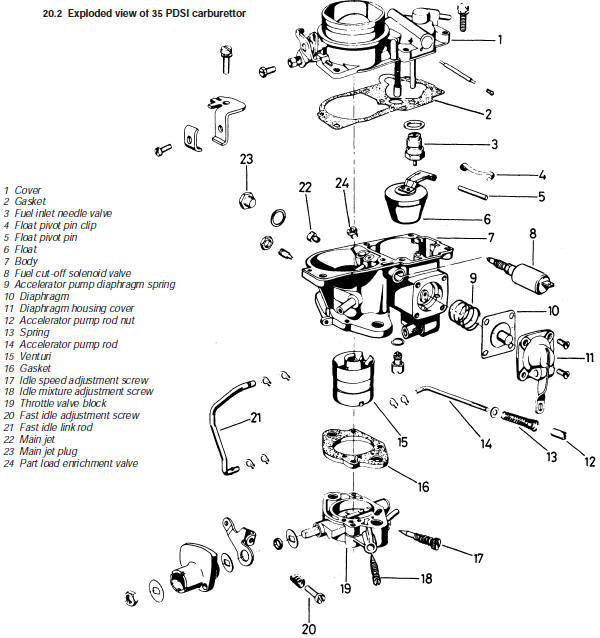 Exploded view of 35 PDSI carburettor
Cover
Gasket
Fuel inlet needle valve
Float pivot pin clip
Float pivot pin
Float
Body
Fuel cut-off solenoid valve
Accelerator pump diaphragm spring
Diaphragm
Diaphragm housing cover
Accelerator pump rod nut
Spring
Accelerator pump rod
Venturi
Gasket
Idle speed adjustment screw
Idle mixture adjustment screw
Throttle valve block
Fast idle adjustment screw
Fast idle link rod
Main jet
Main jet plug
Part load enrichment valve
3. Extract the six screws and remove the cover.
4. Use a socket wrench to unscrew the fuel inlet needle valve.
5. Extract the screw plug and withdraw the metering pin.
6. Extract the spring clip and withdraw the float from the carburettor bowl.
7. The part load enrichment valve is screwed into the base of the float bowl.
8. The main jet can be unscrewed if the plug in the float bowl is extracted and a screwdriver inserted through the hole.
9. The throttle valve housing is held to the main body of the carburettor by two securing screws. To remove the housing, first disconnect the accelerator pump link and then extract the screws.
10. The accelerator pump housing can be dismantled by extracting the four pump housing screws.
11. Clean all components and examine for wear or damage.
12. Blow through all jets and passages with air from a tyre pump; never probe them with wire in an attempt to clean them or their calibration will be ruined.
13. Renew all seals, gaskets, diaphragms etc; these will be available in the form of an overhaul kit.
14. No provision is made for float level adjustment, nor is any checking procedure or dimension specified.
15. Reassemble the carburettor in the reverse order to dismantling, observing the settings and adjustments.